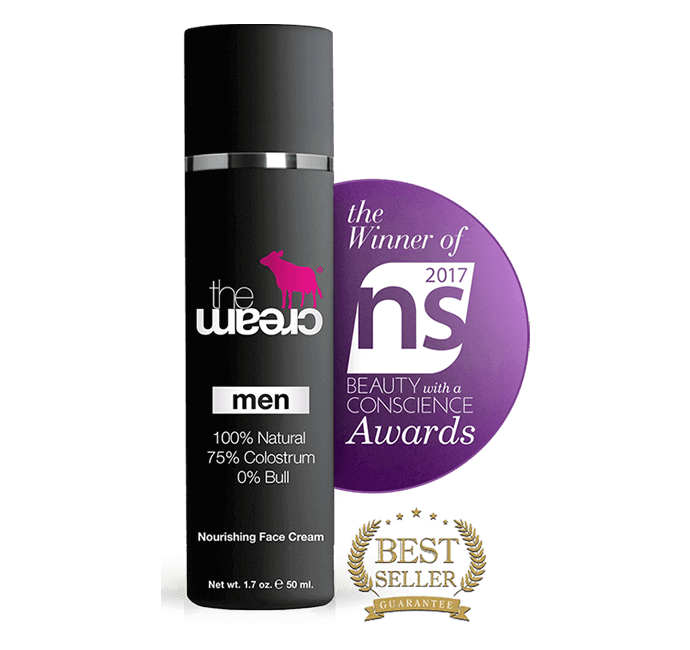 theCream
men
Price: US $71.00
First time customers GET 15% OFF your first order with Email Signup.
15% DISCOUNT on all AUTOSHIP ORDERS + FREE SHIPPING. Choose your frequency when to receive. Autoship discounts not applicable to Sale items. COUPON CODE discounts NOT Applicable to AUTOSHIP orders.
Nourishing Face Cream
50 ml /1.7 fl. oz.
0% parabens, 0% preservatives, 0% alcohol, 100% healthy.
Ingredients
INGREDIENTS (INCI): (theCream® FULL RANGE INGREDIENTS)
Colostrum
Coconut/Palm (Cetearyl Alcohol) wax
Rice Tocotrienol (Oryza Sativa) bran oil
Aloe Vera [Soybean (Glycine Soja) oil (and) (Aloe Barbadensis) leaf oil] *
MSM
Emu (Dromiceius) oil
Hemp (Cannabis Sativa) seed oil
Silica
Coconut/Palm (Sodium Cetearyl Sulfate) wax
Blueberry (Vaccinium Macrocarpon) seed oil
Bentonite clay *
Orange (Citrus Sinesis Dulcis) peel oil
Colloidal Silver
Zinc Oxide
Hydrogen Peroxide
Vanilla Plantifolia fruit oil
Citral/Geraniol/Linalool in citrus oils.
*Registered Organic.
What

A special formulation for him with 75% Colostrum.
Because we believe in equality!

Where

Made specifically for the face and neck.
Ideal for use after shaving.
Great for scalp issues, also as a leave-in hair conditioner

Who

Suitable for all skin types and ages (including sensitive skin).

Why

Calms and soothes.
Non-greasy formulation ensures a matte (non-shiny) finish
Male friendly. Instantly hydrates, improves moisture balance and helps
with nicks and minor cuts. Environmental protection (wind, salt spray etc).
Yachties, surfers and golfers swear by it.
Super concentrated, so only a small amount is necessary.