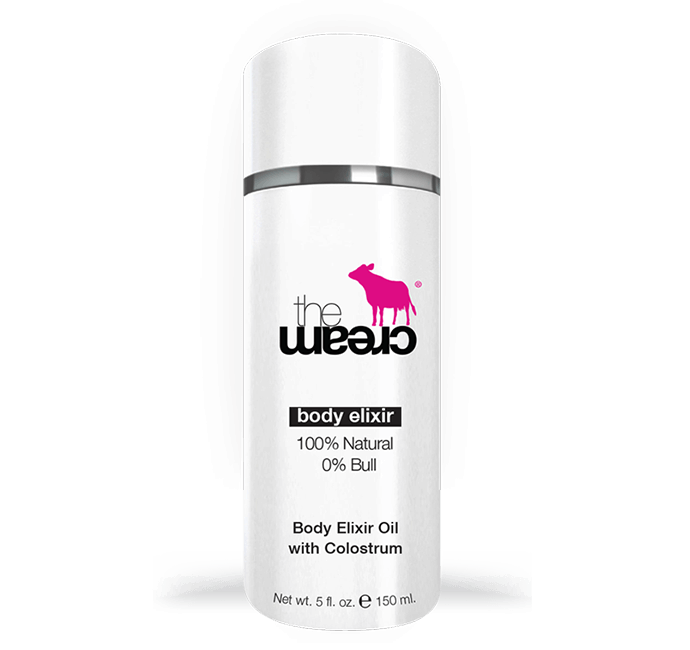 theCream
body elixir
Price: US $59.00
First time customers GET 15% OFF your first order with Email Signup.
15% DISCOUNT on all AUTOSHIP ORDERS + FREE SHIPPING. Choose your frequency when to receive. Autoship discounts not applicable to Sale items. COUPON CODE discounts NOT Applicable to AUTOSHIP orders.
Body Elixir Oil with Colostrum
150 ml / 5 fl. oz.
0% parabens, 0% preservatives, 0% chemicals, 100% gorgeous.
Ingredients
INGREDIENTS (INCI): (theCream® FULL RANGE INGREDIENTS)
Coconut (Caprylic/Capric triglyceride) oil
Sweet Almond (Prunus Dulcis) oil
Avocado (Persea Gratissima) oil
Jojoba * (Simmondsia Chinensis) oil
Colostrum oil
Toco 3500 (Oryza Sativa (and) Tocopherol)
Orange (Citrus Sinesis Dulcis) peel oil
Mandarin (Citrus Nobilis) oil
Lime (Citrus Aurantifolia) oil
Mandarin (Parfum) oil. Limonene/Linalool/Geraniol/Citral, natural trace ingredients of the essential oils.
* Registered Organic.
What

A 'real' body oil with Colostrum and nature's finest cold pressed essential botanicals.

Where

Massage into skin all over. Apply sparingly, it's super concentrated.

theTip: Add 2-3 drops into a bath for super soft silky skin.

Why

Pure, natural and non pore blocking, allowing skin to breathe.
Helps reduce the appearance of stretch marks and uneven skin tone.
Helps protect baby's skin from dryness, irritation and rashes.
Nurtures baby skin, renews elderly, and cares for everyone in between.

Who

For every body, every skin and skin type.
Expecting mom's tummies and baby's skin will love this oil.