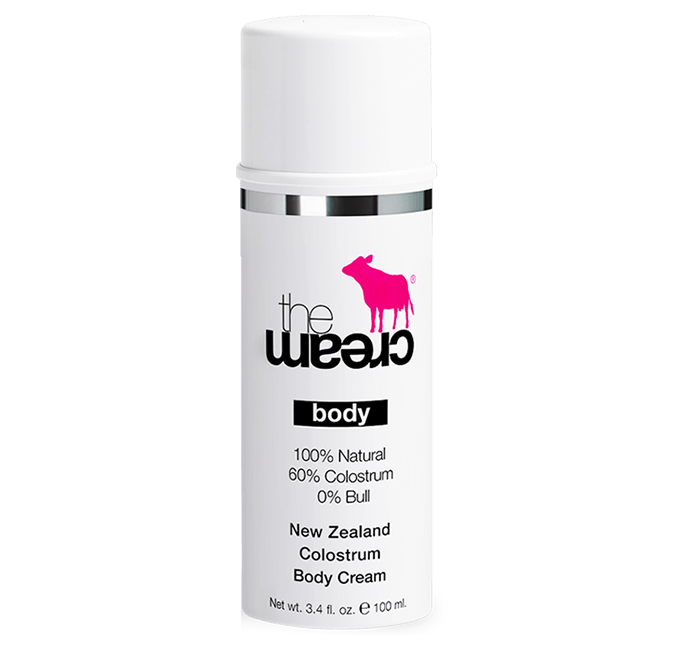 theCream
body
Price: US $54
First time customers GET 15% OFF your first order with Email Signup.
15% DISCOUNT on all AUTOSHIP ORDERS + FREE SHIPPING. Choose your frequency when to receive. Autoship discounts not applicable to Sale items. COUPON CODE discounts NOT Applicable to AUTOSHIP orders.
Moisturizing Anti-Aging
Skin Conditioning Cream
100 ml /3.4 fl. oz.
0% parabens, 0% preservatives, 0% chemicals, 100% delectably yummy.
Ingredients
INGREDIENTS (INCI):
(theCream FULL RANGE INGREDIENTS)
Colostrum
Apricot Kernel (Prunus Armeniaca) oil
Aloe Vera [Soybean (Glycine Soja) oil (and) (Aloe Barbadensis) leaf oil] *
Coconut (Caprylic/Capric triglyceride) oil
Coconut/Palm (Cetearyl Alcohol) wax
MSM (Dimethyl Sulfone)
Orange (Citrus Sinesis Dulcis) peel oil
Vegetable Glycerin
Rice Tocotrienol (Oryza Sativa) bran oil
Sea Meadowfoam (Limnanthes Alba) oil
Hemp (Cannabis Sativa) seed oil
Colloidal Silver
Silica
DermCom [Crocus Chrysanthus Bulb Extract (and) Acacia Senegal Gum (and) Aqua]
Defensil [Octyldodecanol, Black Current (Ribes Nigrum) seed oil, Sunflower(Helianthus Annuus) seed oil unsaponifiables, Cardiospermum Halicacabum flower/leaf/vine extract, Tocopherol, Sunflower (Helianthus Annuus) seed oil, Rosemary (Rosmarinus Officinalis) leaf extract]
Coconut/Palm (Sodium Cetearyl Sulfate) wax
Vanilla Plantifolia fruit oil
Blueberry (Vaccinium Macrocarpon) seed oil
Bentonite Clay *
Zinc Oxide
Hydrogen Peroxide
Citral/Geraniol in citrus oils
* Registered Organic.
Instructions
Follow these steps to prime the Airless Vacuum Pump of your BODY Cream, before your first use:
Remove Cap off bottle
Pump several times
Put Cap back on bottle
Turn bottle upside down and gently tap it against a hard surface 3-4 times
Remove Cap off bottle
Pump until the BODY cream flows
Repeat above steps, if necessary
What

A luxurious and rich body cream with 60% Colostrum, designed
to moisturize and nourish.
Provides instant and long-term hydration, without any of the nasties.
Beautiful fresh scent thanks to natural citrus oil.

Where

This is the ultimate all over REAL body cream.
Apply daily for healthy, happy skin.

Who

All skin types and ages. Perfect for mums and babies.

Why

Softens, smoothes, and fabulously moisturizes.
Helps improve skin tone and firmness.
Non greasy and fast absorbing.