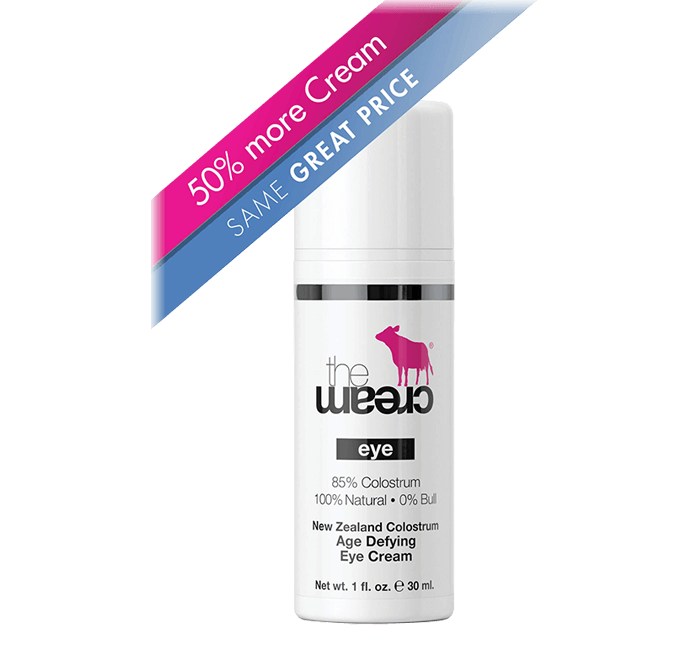 theCream
eye
Price: US $71
First time customers GET 15% OFF your first order with Email Signup.
15% DISCOUNT on all AUTOSHIP ORDERS + FREE SHIPPING. Choose your frequency when to receive. Autoship discounts not applicable to Sale items. COUPON CODE discounts NOT Applicable to AUTOSHIP orders.
Age Defying Eye Cream
30ml / 1 fl oz
0% parabens, 0% preservatives, 0% chemicals, 100% stunningly beautiful.
Ingredients
INGREDIENTS (INCI)
Colostrum
Coconut/Palm (Cetearyl Alcohol) wax
Aloe Vera [Soybean (Glycine Soja) oil (and) (Aloe Barbadensis) leaf oil]*
Rice Tocotrienol (Oryza Sativa) bran oil
Emu (Dromiceius) oil
DermCom [Crocus Chrysanthus Bulb Extract (and) Acacia Senegal Gum (and) Aqua]
MSM (Dimethyl Sulfone)
Hemp (Cannabis Sativa) seed oil
Defensil [Octyldodecanol, Black Current (Ribes Nigrum) seed oil, Sunflower(Helianthus Annuus) seed oil unsaponifiables, Cardiospermum Halicacabum flower/leaf/vine extract, Tocopherol, Sunflower (Helianthus Annuus) seed oil, Rosemary (Rosmarinus Officinalis) leaf extract]
Hyaluronic Acid
Rosehip (Rosa Mosqueta) fruit oil
Silica
Coconut/Palm (Sodium Cetearyl Sulfate) wax
Colloidal Silver
Bentonite Clay *
Blueberry (Vaccinium Macrocarpon) seed oil
Zinc Oxide
Vanilla Plantifolia fruit oil
Hydrogen Peroxide
* Registered Organic.
What

By popular demand.
A super concentrated serum (85% Colostrum-our highest level), combined with a revolutionary botanical blend (Blackcurrant & Sunflower oil concentrate and Crysanthus bulb extract), which enhances collagen and elastin.
Helps prevent puffiness and replenish skin barrier.

Where

Apply under and around the eye area.
So gentle it can be used on the lid area.
Use morning and night.

Who

Designed to target and visibly improve the appearance of fine lines and wrinkles.
Suitable for all skin types (including sensitive skin).

Why

Helps tighten and firm the eye area.
Reduces the appearance of fine lines, puffiness and dryness.