Facial Serum is NCW 2017 Eco-Awards Finalist! GIVEAWAY!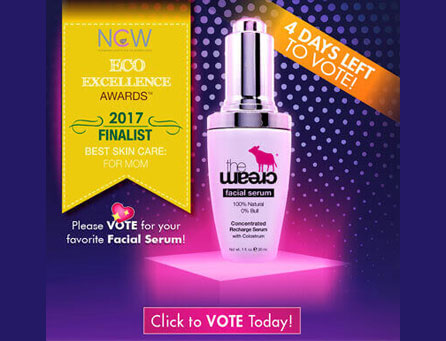 [CLOSED] 3 Days Left to vote!
We are so excited to announce that theCream Facial Serum has been selected as 2017 NCW Eco-Excellence Awards™ Finalist in the Skin Care for Mom category and we need your vote to Win this Award!
✨ The Eco-Excellence Awards™ now in their 7th edition, are the only ones of their kind to recognize excellence in social and environmental sustainability for products, services, companies and websites.
✨ Follow these steps to cast your Vote! 1. Click on the 'Vote' link 2. Select 'Personal Care' icon 3. Scroll down to 'Skin Care for Mom' 4. Click on Facial Serum image to Vote !
✨ theCream Facial Serum! Voting deadline is August 31st.
Facial Serum GIVEAWAY!

✨
And, in celebration of becoming a NCW Awards Finalist, we are giving away 2 Facial Serums to 2 lucky winners, (1 winner selected in Instagram, 1 winner selected in Facebook) shipped in our beautiful theCream GIFT Boxes.
You will also receive a paperback copy of Healthy Beauty, Ageless Beauty, recently published book by Denie Hiestand, the formulator or theCream Skincare range!
✨
HOW TO ENTER:
1️⃣ Follow us (on Instagram and/or Facebook)
2️⃣ Like our post (on Instagram and/or Facebook)
3️⃣ Tag a friend or more (on Instagram and/or Facebook)
4️⃣ Vote for theCream Facial Serum (Click on the link in Bio)
While voting is not required, we would ❤️ LOVE❤️ to receive your vote and your support, to help spread the word about our All-Natural, No-Chemicals, Bio-Available Facial Serum that is an absolute favorite of our theCream customers! ?❤️?
✨
A total of 2 lucky winners will be selected by a random draw and announced, 1 winner in Instagram and 1 winner in Facebook, on Monday, August 21st, 2017.
✨
? GIVEAWAY open Internationally! Instagram/Facebook not affiliated with this contest. Must be 18+ to apply.
✨
Good luck to you winning this GIVEAWAY and wish theCream Skincare good luck in winning the 2017 NCW Eco-Excellence Awards™ by voting for our Facial Serum! ?

#skincare #organicskincare #organicbeauty #colostrum
#beautyaddict #beautyaward #newzealandbeauty #healthyskin #greenbeauty #cleanbeauty 
#chemicalfree #crueltyfree 
#smallbatch #handcrafted #naturalskincare
#thepinkcowbrand #thecreamskincare
#giveaway #beautygiveaway #newgiveaway #winthis #bloggergiveaway